ICPIC Innovation Academy – Hubert Tuor Prize
Support
The International Conference on Prevention and Infection Control (ICPIC), sponsored by the WHO, is held every two years in Geneva. It brings together 1500 participants from all over the world to exchange knowledge and experience in infection prevention and antimicrobial resistance control.
Vigilance and Exchanges
Despite the progress achieved in the fight against infection and the efforts made in the area of prevention, exchanges of this kind are still essential, as antimicrobial resistance persists and is a threat to all countries.
The need to share relevant knowledge and experience therefore remains unchanged and every year ICPIC brings together an increasing number of experts and opinion leaders in this field.
The "Innovation Academy"
In addition to the numerous conferences, round tables, exchanges and workshops, ICPIC has set up the "Innovation Academy". Throughout the congress, participants in the "Innovation Academy" will make presentations, at various times and in different forms, of their work in the areas of infectious risk prevention, resistance, behavioural changes, equipment and materials, and other modes of prevention.
ICPIC Innovation Academy – 2015 – Hubert Tuor Prize
Within the framework of the ICPIC, the Innovation Academy winners received the Hubert Tuor Prize, awarded to the three most innovative projects. FHT is honoured to be involved in these activities thereby contributing to transform today's research efforts into tomorrow's concrete projects, to support innovation in the priority area of infection prevention, and to play its part in making our world a better place.
The Prizewinners
The jury selected three projects from the twelve submitted and Sylvie Tuor, the Foundation President, presented the awards to the three finalists:
1st prize: Project No. 14
"Development of antimicrobial peptides for catheter-related bloodstream infection prevention", by Anne Camesano et al.
2nd prize: Project No. 18
"Infection prevention and patient safety improvement in developing countries thanks to sodium hypochlorite production devices", by Denis von der Weid
3rd prize: Project No. 10
"Teaching good infection control practices with fun: impact of the serious game flu.o", by Anne-Gaelle et al.
Full list of projects and a summary of each
ICPIC Innovation Academy – 2017 – Hubert Tuor Prize
This year HTF has once again contributed to the Innovation Academy, during the ICPIC conference in Geneva.
This is a unique opportunity for researchers and conference participants to learn about a range of innovative projects concerning the prevention and control of infections. The presentations, delivered by experts from throughout the world sharing their work, were submitted to a jury, which selected the three projects to be awarded the Hubert Tuor Prize.
Anne Guidolet, representing HTF, presented the prizes to the three winners:
1st prize: Project No. 12
"Identification of anti-virulence compounds for combating staphylococcus aureus infections by high-throughput screening (hts)", by Richard Y. Kao et al. (Hong Kong)
2nd prize: Project No. 10
"How we talk about hand hygiene matters – an exploration of hand hygiene etymology", by Claire Kilpatrick et al. (United Kingdom)
3rd prize: Project No. 14
"Isee-resistance: using in silico experimental evolution to sensitize providers on antibiotic resistance", by Guilaume Beslon et al.(France)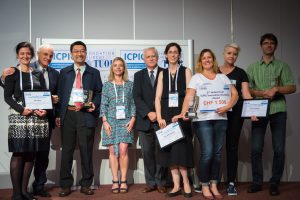 Click here to see the complete list and the summary of every project.

ICPIC Innovation Academy – 2019 – 

Hubert Tuor Prize

For the third time, the FHT had the honor to participate to the Innovation Academy 2019.

The 3 winners received from Sylvie Tuor, Foundation's President, the Hubert Tuor Prize, which awards their work.

Here is the 2019 prize list:

1st :Michael David Ian Lucas – POLYMER METALLISATION VIA COLD SPRAY AND 3D PRINTING FOR THE MITIGATION OF NOSOCOMIAL INFECTION TRANSMISSION

2nd : Marlot Johanna Blaak – A NOVEL OPEN-SOURCE INNOVATION FOR HAND-HYGIENE MONITORING AND COMPLIANCE USING INTERACTION DESIGN (ID): CAPACITY FOR GLOBAL SCALING UP INTERNET OF THINGS (IOT) TECHNOLOGY

3rd : Ehsan Khaljani  – MOTION DETECTION AND ARTIFICIAL INTELLIGENCE IN THE AUTOMATIC DOCUMENTATION OF KEY FIGURES FOR HAND HYGIENE COMPLIANCE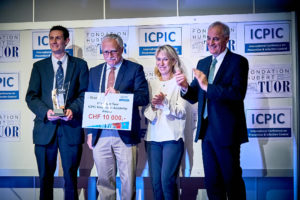 More information