Support
As part of their international baccalaureate, pupils from the International School of Geneva must complete a number of creative, sporting and humanitarian projects. In March 2016, FHT decided to support a group of five students. This is their project:
"We decided to raise money for an NGO working in international medical aid: RESCUERS WITHOUT BORDERS (RWB).
This association operates in all urgent situations, be they natural disasters (earthquakes, hurricanes, floods, etc.) or terrorist attacks, without discrimination on grounds of origin, religion or political affiliation. In the majority of cases, before being able to intervene, international missions require an infrastructure that sometimes takes a long time to put in place.
By acting immediately, Rescuers Without Borders and its teams look after those affected and injured while they await the arrival of organisations that will work in conjunction with field hospitals and surgical centres.
RESCUERS WITHOUT BORDERS was founded in Israel, but is primarily and above all an international medical unit at the service of everyone. RWB brings together doctors, nurses and psychologists equipped with emergency aid kits, but also around 5,000 trained rescuers. Doctors and rescuers alike, all of whom are volunteers, are equipped with "pagers" that they wear at all times. As soon as they are notified of a disaster, they must be ready to leave immediately.
Choosing an organisation that inspired all five of us was not easy, and what made all the difference was this organisation's educational vocation. RWB's role does not end with urgent interventions. From the very beginning, there has been a genuine desire to educate and train as many people as possible in first aid in order to act as quickly as possible in dramatic situations, regardless of political or religious currents. In a number of countries, adults and children are given basic first aid training, allowing them to come to the assistance of their family and friends. RWB takes this even further, funding international branches managed by local staff which serve as medical and learning centres for volunteers.
For greater visibility, we created an Instagram account (youngssf) and have given talks on RWB in our school on several occasions. But we also need your help if we are to continue highlighting the work of these volunteers and drive home the message that natural disasters and terrorist attacks can affect us all.
We need your donations. Regardless of amount, they will be used to help fund one of the bags pictured below. We want to see this project through so that we can fund as many bags as possible for doctors and rescuers, or simply refill existing bags. Even CHF 10 would be greatly appreciated. Our aim is to donate these bags on behalf of our school, but if you wish you can also make a donation on behalf of your family, company or friends. If you do help to fund a bag or refill an existing bag, you will be personally informed by email or text message of the place where "your bag" was used.
The costs of bags are as follows:
Doctor's bag: € 2'500.-
Rescuer's bag: € 1'800.-
Bag refill: € 1'000.-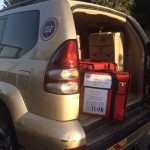 Whatever sum you donate, it will be useful and hugely appreciated. We attach great importance to every donation. Between now and April, we will contact every donor to let you know the total sum we have raised.
We would like to thank you wholeheartedly for contributing to the success of this project, which we hope will encourage other students to follow suit and continue to develop the project with the help of the Swiss branch of RWB."
Claire Piacentini
Noémie Selvi
Paul-Emile Duroux
Nicolas Rotzer
Archibald Saen