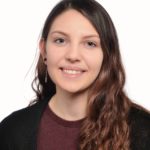 Testimonial
I am glad to have received a grant from the Hubert Tuor Foundation.
I obtained my bachelor's degree in microtechnology engineering in June 2018 at HEPIA Geneva. During these three years, I had the opportunity to participate in the ESA student experience program. Our team, composed of students from HES Switzerland, carried out an experiment in microgravity on a Rexus rocket: "Studies of the behaviour of liquids in microgravity". I also had the opportunity to do my internship in Turin at Thales Alenia Space. These projects motivated me and reinforced my idea of working in the space field.
After consideration, I decided to complete my studies with a master's degree. Thanks to the support of the foundation, I can approach this new step of my career peacefully. My choice was the international master's degree; AEROSPACE ENGINEERING, offered by the ISAE-SUPAERO Toulouse school. I moved to Toulouse because it is a city known for its many activities in the field of space and aeronautics. Since my childhood, I have always been passionate about aviation and space exploration, this scholarship allows me to get a little closer to my dream.
I like the ethics of the foundation, especially the spirit of sharing. With a temperament open to others and having had its values in my education, I find myself fully in the community 242. Indeed, it is important to share as much knowledge as possible, in order to improve the future and the world around us. And it is often an opportunity to acquire new ones.
In the future, I want to be entirely involved in the 242 process.
My warmest thanks once again to the Huber Tuor Foundation for its trust and support.