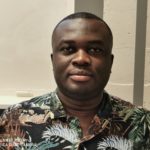 Testimonial
Currently a master's student in physics at the University of Geneva, thanks to the Hubert Tuor Foundation, I obtained a scholarship to support my master's degree in nuclear and corpuscular physics. The latter will allow me to focus on my studies in order to carry out my master's project without financial difficulty.
After interrupting my studies in Cameroon at the University of Douala where I obtained a university degree in technology in thermal engineering and energy. Arrived in Geneva a few years ago where I was able to obtain a bachelor's degree in physics; I dare to believe that this scholarship is for me an opportunity to do in the field that I have always dreamed of.
My master's project will be on Proton therapy which is a radiotherapy technique aimed at destroying cancer cells by irradiating them with a beam of particles; my goal will be to master the fundamental principle of this technique and to know which are the most effective nuclear particles to this technique.
Today, member of the 242 community; I am committed to transmitting the values of the FHT, to inverting my time for future generations and promoting the events of the foundation in order to ensure a good continuity of the foundation.