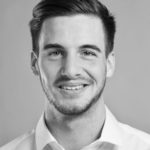 Testimonial
My time at swissnex Boston was an amazing experience that I truly enjoyed. I met many wonderful people and learned a lot in many ways – despite (or maybe also because of) the coronavirus difficulties. In the end even a startup resulted from my time in Boston.
Thank you so much for making all this possible. I will forever be grateful to the Hubert Tuor Foundation and look forward to meet my fellow 242 colleagues.
I have always been passionate about sustainability issues and emerging technologies, which made studying Environmental Engineering for my Bachelor's degree at ETH Zurich a natural choice for me. These studies sharpened my critical thinking, gave me a solid understanding of fundamental engineering theory and taught me how to reason from first principles. Studying for a Master's degree in Energy Science and Technology at ETH Zurich deepened these skills and complemented them with the technical, environmental, economic, and political aspects of sustainable energy systems. My Master's degree culminated in a thesis that included the design and development of a software application that can be used as a data-driven decision tool for energy-efficient building retrofits.
During my studies I worked as the first employee in an ETH Zurich spin-off that specializes in energy consulting. My responsibilities included planning and implementing building systems for heating, ventilation, air conditioning, and sanitation. This position not only allowed me to gain relevant practical experience but also instilled me with a deep fascination for entrepreneurship.
The pursuit of my passion for entrepreneurship and new technologies has led me to swissnex. swissnex is a knowledge exchange consulate initiated by the State Secretariat for Education, Research and Innovation to solidify Switzerland's leading role in science, education and innovation. To this end, swissnex supports Swiss start-ups during their expansion into foreign markets by introducing them to a network of contacts and providing valuable advice and insights.
Thanks to the generous support of the Hubert Tuor Foundation I am able to further pursue my passion by joining swissnex Boston for a six-month internship in innovation and entrepreneurship. I am deeply grateful and proud to be provided with this opportunity and absolutely thrilled to join the 242 community. I am committed to spread the Hubert Tuor Foundation's philosophy of sustainable philanthropy and look forward to forging long-lasting friendships with other 242 fellows.
My deepest thanks to the Hubert Tuor Foundation for its trust and support!
diesigi@bluewin.ch