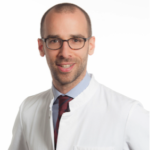 Testimonial
I am a Swiss board certified gynecologist. I completed my medical education at the University of Lausanne and obtained my doctoral thesis at the University of Zurich. My main clinical and research interest is breast cancer treatment. I am particularly interested in the de-escalation of axillary surgery and the clinical management and epidemiology of breast cancer in young women.
In 2018, I completed a certificate in advanced studies in breast cancer organized by the European School of Oncology (ESO) and the University of Ulm, Germany.  To deepen my knowledge in biostatistics and epidemiology I am currently doing a Master in Public Health (MPH) at Harvard University. I am also an active member of the European Society of Surgical Oncology Young Surgeon and Alumni Club (EYSAC) and I am particularly interested in promoting high quality education in breast surgical oncology.
After obtaining the board certification in gynecology at the University Hospital of Basel, I worked in the Breast Surgery division of the same hospital. In July 2019 I joined the Breast surgery Department at Memorial Sloan Kettering Cancer Center (MSKCC) in New York, where I am currently doing a research fellowship. Thanks to the support of the FHT, I will be able to continue my research activity as well as my clinical training at this worldwide renowned institution. Clinicians often struggle to find financial support to go abroad for clinical and research training. By allowing young doctors to deepen their background and acquire further experience, the FHT is contributing to improve clinical care in Switzerland and abroad.
By pursuing an academic career, I hope to improve patient care and help establish training programs in Europe, so that every woman suffering from breast cancer can be treated by specialists trained and accredited in breast surgical oncology.
montagna.giacomo@gmail.com