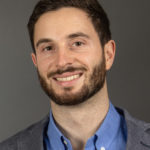 Testimonial
I am a doctor, doing my residency in Urology, in Geneva University Hospitals, and Alumni of Geneva University's Medical School, where I did my studies. Thanks to Hubert Tuor's Foundation, I received the missing financial support for one year of surgical formation abroad, to improve my knowledge and surgical skills.
I hope to do an academic career at Geneva University Hospital and want to specialize in onco-urology. Onco-urology focuses on the treatment of urologic cancer, such as cancers of the prostate, the bladder, and the kidney among others and is often a long journey because of its complexity. I decided to widen my training, during my residency, in Grenoble University Hospitals, which is a recognized center for its surgical teaching and advanced technologies, especially in the minimally invasive technics, such as robotic surgery. This year of formation will help me acquire solid knowledge and competences, to allow a further Fellowship in the years to come.
I am also very interested in clinical research, especially robotic surgery, on which I am currently writing a doctorate thesis. I had the occasion to publish different articles in international medical journals since the beginning of my formation. I keep increasing my knowledge and recently obtained a Certificate of Advanced Studies in patient-oriented clinical research.
Passionate about education, and knowledge transmission in medicine, I developed with an innovative platform to share medical knowledge with two colleagues, which is used daily by hundreds of users in Geneva University Hospital and Geneva University, and recently received the Credit Suisse Award for Best Teaching of Geneva University.
I want to thank the Hubert Tuor Foundation for its support and trust in my project, and look forward to pursuing the philanthropic spirit of the foundation, by giving back to society.
o.windish@gmail.com
Credit Suisse Award for Best Teaching:
https://www.unige.ch/innovations-pedagogiques/innovations/application-head-toe
https://www.linkedin.com/posts/polesea_prix-unige-enseignement-activity-6729734817786687490-kBvb
https://www.linkedin.com/feed/update/urn:li:activity:6734111935312236544/
More informations about my projects:
https://www.fondationhug.org/HeadToToe
https://www.headtotoegeneva.com
https://www.tdg.ch/geneve/actu-genevoise/partager-savoir-medical-tete-pieds/story/12387789
https://publichealth.jmir.org/2020/2/e18668/
https://mhealth.jmir.org/2020/8/e20025/